Skip to Content
Professionally Trained to Replace or Repair Your Drywall
Whether you're remodeling your home or office or starting from scratch with new construction, the team at Cornerstone Construction Services, Inc. is here to help. We are professionally trained to replace or repair your drywall and refinish the surface with any paint, wallpaper, or specialty finish you desire. We understand that not everyone is a do-it-yourselfer, which is why we offer a variety of drywall services to suit your needs. We also offer multiple options for texture applications, so you can choose the look that best fits your space. And if you're not sure what you want, our team can help you explore the possibilities and find the perfect solution for your needs. Whether you need a little touch-up work or a complete drywall overhaul, we're here to help. Give us a call today to get started.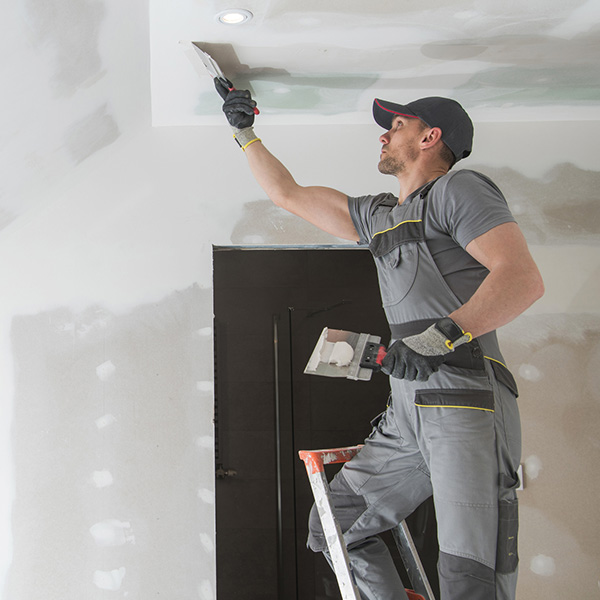 What Is Drywall?
Drywall is a construction material used to create walls and ceilings. It is made of panels of gypsum plaster pressed between two thick sheets of paper. Drywall is used in both new construction and renovation projects. When properly installed and finished, it provides a durable, attractive surface that can be painted or wallpapered.
Benefits of Drywall: Drywall has many benefits over other types of wall coverings. It is easy to install and finish, and it can be repaired relatively easily if damaged. Drywall is also fire-resistant and soundproof, which makes it an ideal choice for homes and businesses.
Common Drywall Problems: Drywall is a common material used in home construction and can be prone to certain problems. Water damage, insect infestation, and nail pops are some of the most common issues. Drywall can also crack or develop holes, which can be unsightly and may allow pests or water to enter the wall. Additionally, drywall is susceptible to impact damage from doorknobs or other objects, leading to chips or other surface defects. While these problems can be frustrating, many of them can be repaired relatively easily.
What to Expect From Our Drywall Repair Services
When you call Cornerstone Construction Services, Inc. for drywall repair, our team will arrive promptly to assess the damage and create a plan of action. We will then provide you with a free estimate for the repairs. Once we've started the work, we will take care to minimize the disruption to your home or office and will clean up when we're finished. And because we stand behind our workmanship, you can be confident that the repairs will be made correctly the first time.
Frequently Asked Drywall Repair Questions
Choose Cornerstone Construction Services in Knoxville, TN
If you're in need of drywall repair contractors here in Knoxville, TN, Cornerstone Construction Services is the company for you. With over 30 years of experience and a reputation for customer service that's second to none, we're certain you won't be disappointed with the work we do. In addition to drywall services, we offer electrical work, plumbing, and commercial development – so no matter what your needs are, we can probably help. Contact us today to get started!
Contact Us for Drywall Repair Services Today